Command Performance - Old Time Radio

Vintage Radio: Wartime Musical Variety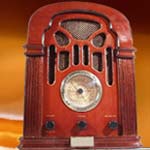 Command Performance was a spectacular wartime musical variety show broadcast from 1942 to 1946. Lauded by Time Magazine as "the best wartime program in America," Command Performance was aired for troops fighting overseas. All radio stars and the production crew donated their time and talents to the program. Troops were given the opportunity to request performance by their favorite American radio personalities. Bing Crosby, Bob Hope, Fred Allen, Red Skelton, George and Gracie Allen, Fibber McGee and Molly, July Garland, and Frank Sinatra were all frequently heard on the show.
Due to its popularity, Command Performance continued its production even well after the war had ended. The program continued to meet the requests for performance from American servicemen and women all over the world.

There are 231 shows in our collection!
Date Aired
Guest-Don Ameche
September 22, 1942
Guests-Red Skelton, Betty Hutton
August 25, 1942
Guest-Dinah Shore
December 9, 1942
Guests-Rita Hayworth, Cass Daley, Frank Morgan, Lena Horne
October 27, 1942
Guests-Cary Grant, Shirley Temple
July 28, 1942
Guest-Walter Pidgeon
August 11, 1942
Guests-Bing Crosby, Connee Boswell, Kay Kyser, James Cagney
September 11, 1942
Christmas Special
December 24, 1942
Guests-Betty Grable, Judy Canova, Bergen and McCarthy
November 3, 1942
Guests-Jack Benny, Alice Faye, Cass Daley
November 10, 1942
Guests-Spencer Tracy, Mary Lee
June 30, 1942
Guests-Bob Hope, Lena Horne
July 7, 1942
Guest-Mickey Rooney
June 2, 1942
Guest-Clark Gable
August 4, 1942
Guests-Bob Burns, Dinah Shore, Tommy Dorsey, Count Basie, Spike Jones
September 29, 1942
Guests-Bing Crosby, Mary Martin
October 13, 1942
Guests-Linda Darnell, Z. Mostel Red Skelton, H. Hilliard
October 24, 1942
Guests-Edward Arnold, Jack Benny
July 14, 1942
Guests-Cary Grant, Spike Jones
October 7, 1942
Guests-Kate Smith, Henny Youngman
March 13, 1942
Guests-Tallulah Bankhead, Joan Edwards
September 4, 1942
Guests-Leopold Stokowski, Dorothy Maynor, Mishcha Elman
November 15, 1942
Guests-Frances Langford, Bob Burns
October 21, 1942
Guests-Cary Grant, Virginia O'Brien, Joan Davis, Bert Lahr
August 18, 1942
Guest-Loretta Young
June 23, 1942
AND MANY MORE



Other Vintage Radio You'll Like:
Try these other Old Time Radio Shows out for size!